About Nordic Walking
"It's like the benefits of Pilates and cycling all in one!" Fiona, Victoria
Nordic Walking (1) :
Activates 90% of the body's muscles
Burns up to 46% more calories than regular walking
Increases cardio effect by up to 25% compared to regular walking
Decreases load and strain on the lower body
Strengthens and tones upper arms, shoulders and back muscles
Develops core stability and strength
Promotes upright posture
(1) Scientific Evidence on Nordic Walking
Getting started is as easy as using the right poles in the right way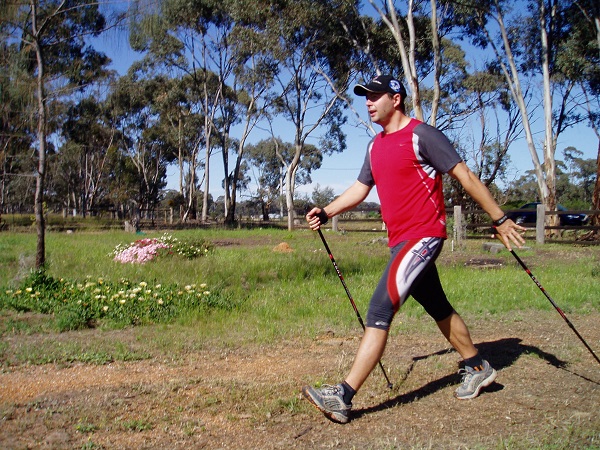 Right Poles

Not all poles are the same

Poles can look alike when you are choosing but don't be fooled.
Hiking poles are not the same as Nordic Walking Poles.

Nordic Walking poles are specially designed to engage your upper body to create a total body workout

You get what you pay for

. Cheaper poles are cheaper for a reason – don't risk buying poor quality

Wrist straps need to be well designed

to maximise power transfer and comfort. Poor qualitystraps can cut into your hand and cause blisters
Nordic Walking poles need to suit your height. To find out what length pole you require take a look at the chart: "Choosing the Right Length Poles "
Nordic Walking poles come as either fixed length or adjustable and have different features to suit your needs and preferences
Are you ready to find the Nordic Walking poles thatare perfect for you?
Yes, I'm ready to find the right poles for me
Right Way

Don't waste your walk

Walking with poles is just the start. To burn those calories and engage 90% of muscles you need to stride in the right way.

'I highly recommend Nordic Walking. If you get the opportunity to give it a go you will never look back and literally keep going forward!' Marion Goodman, Tamworth
Many of
Australia's leading health organisations

believe in the benefits of Nordic Walking

Our LEKI poles are used by:

"The LEKI poles have proved themselves to be resilient and versatile. They have been borrowed by clients for weeks at a time and have returned robust and intact. It's their design and quality that stands them out from other brands." Chris Worthington, Rural Health TAS
"I run Nordic Walking fitness classes and programs through the suburbs as well as the bush. I need to be able to trust the performance of the poles over long distances, and for them to deliver maximum benefit and enjoyment to my clients. The LEKI range of poles deliver every time." Hannes Holly, Active4Life + Oxfam Trailwalker Ambassador, Perth WA
"The LEKI poles look, feel and function far superior to the cheaper poles out there. Nordic Academy are always searching and consulting with the global market to bring the best and newest models to Australia." Jim Mack, South Australian Sports Medicine Centre, Adelaide SA
About Nordic Academy
Nordic Academy was established in 2005 and since that time has established itself as Australia's leading Nordic Walking authority and provider of quality Nordic Walking equipment, training and resources.
At the heart of this organisation are its founders Patrick Burtscher and Maree Farnsworth who are passionate and committed in their endeavour to develop Nordic Walking in Australia sothat as many others as possible can also enjoy thehealth and fitness benefits of the activity. "We discovered Nordic Walking whilst in Europe, fell in love with it and wanted to share it."
My Nordic Sports is the official online shop for Nordic Academy.
Nordic Academy's training is certified by:

To learn more about Nordic Academy visit: www.nordicwalking.com.au